.. endlich zu Zweit nach vielen Solo-Reisen: deshalb ein "best of" ..
Reisedauer : 23 Tage
Strecke : 6.025 Kilometer
Holzverbrauch : 2,3 Ster
Multimedia : 3.909 Fotos und Videos
Diesel : 1.077 Liter
Verbrauch auf 100 Km : 17,9 Liter
Dieselpreis USA in €: 0,61 - 0,77
Dieselpreis CAN in €: 0,74 - 1,02
Verschiedene Campgrounds: 16
Temperatur aussen: -2ºC .. 18ºC
Temperatur innen: 2 x 37ºC
Tiere: Moose, Caribou, Blackbear, Grizzly, Beaver, Squirrel, Mouse, Fox, White Tailed Deer, Muscox, Salmon, Rabbit, Bald Eagle, Marmot, Blue Heron, Geese, Duck, Swan

Journey to the Northern Lights
Hier geht's direkt zum Bericht :

On Tour
Northern Lights? Warum dieser Name?
Es gibt so viele Namen für dieses magische Licht: Polarlicht, Northern Lights, Aurora Borealis, Nordlys, Nordlicht, Polar Lights, ... Es ist das Resultat der Kollision von Sonnenpartikeln mit dem Gas der Erdatmosphäre. Auf ihrem Weg erdwärts an den magnetischen Polen werden sie durch die Gase gestoppt und die dabei umgewandelte Energie wird als Photon emittiert. Viele solcher Kollisionen erzeugen die Aurora - Licht das sich am Himmel bewegt.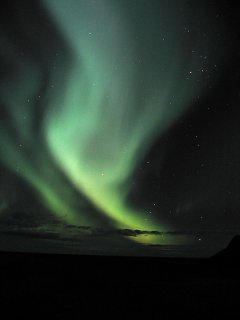 Dieses Licht zu sehen ist so wunderbar, dass es mich schon beim ersten Mal in seinen Bann genommen hat. Jede Reise in den Norden Kanadas ist allein durch dieses Licht den langen Weg wert. Am besten ist es in den Monaten September bis März zu beobachten.
Auch deshalb geht diese Reise wieder auf die schönste Strasse Kanadas: den Dempster Highway. 741 km Schotterpiste vom Klondike Highway (knapp 40 km entfernt von Dawson City) bis nach Inuvik, eine Stadt mit knapp 3.000 Einwohnern.
Mehr Informationen